Latest News
OCAU Merchandise (0 Comments)
 Tuesday, 26-August-2003  17:19:09 (GMT +10) - by Agg


We're getting close to the next round of OCAU merchandise. We'd like to get an idea of people's interest in the various options so we have a rough idea of how many of each to order. Please vote in the following threads:

Update: If you can't wait, we do have tshirts, stickers and case badges for sale already, see here on PlusCorp's site.




World Cyber Games (1 Comments)
 Tuesday, 26-August-2003  15:28:35 (GMT +10) - by Agg


Don't forget, the World Cyber Games 2003 Australian National Preliminaries Tournament Finals and BYO-PC LAN are on this weekend in Darling Harbour:

Ausgamers in partnership with Samsung and Intel are pleased to announce that the WCG National Finals are upon us!! This event, the culmination of months of nationwide planning and qualifying tournaments will be no ordinary LAN. With the National finals of the WCG Tournament, BYO-PC LAN and technology expo, the World Cyber Games 2003 Australian National Preliminaries will be THE ultimate gaming event to date.

Full details here!

Update: Hughesey reminded me that the Intel PC Modding Competition is being judged and awarded there. 8 finalists have been chosen and so far, 5 out of 8 are OCAU forum people. :) More info in this thread.




Tuesday Afternoon Reviews (0 Comments)
 Tuesday, 26-August-2003  14:34:29 (GMT +10) - by Mred32


Storage:
160.0GB Samsung SP1614N HDD at MBReview
Cooler Master Cool Drive 3 at Gruntville

Video:
Compro VideoMate TV Gold Plus TV Tuner at OCAU
Tyan Tachyon G9600Pro at OC Addiction
Albatron GeForce FX5600U Ultra at PCStats
PowerColor 9200SE at OHLS Place

Case/Mods:
BitsModding (insanely bright) CCFL Fan Grill at GideonTech
Cobalt3 Pyramid V+ Fan Controller at The Tech Zone
Vantec Nexus NXP-301 & Spectrum CCFLs at Envy News
Vantec Nexus NXP-205-SL Rheobus at Envy News
Antec LANBoy at Nexus
VLSystem L.I.S VFD at Bit-Tech

Cooling:
Asetek WaterChil Water Cooling Kit at HotHardware
Zalman CNPS7000A-CU Heatsink at Pimprig

Mainboard:
SOYO-KT600 Dragon Ultra at TechnoYard
Soltek SL-KT600-R at OHLS Place

Systems/Laptops/PDA:
The AMS eCube EG65 at SFF Tech

Memory:
OCZ EL DDR PC4000 Gold Dual Channel Kit at Viper Lair

PSU:
Kingwin KWI-450WABK Divine PSU at Bjorn3D

Audio:
Westone UM2 In-Ear Monitors at ExHardware

Other Bits:
Twin-TV "digital wallet" Gadget at Dans Data
XTrac Zoom Mouse Pad at Extreme OC
PC Geiger PCI Bus Multifunction Analyzer at Rojak Pot
Minolta Dimage F300 Digital Camera at ByteSector




Monday Night News (8 Comments)
 Monday, 25-August-2003  22:49:09 (GMT +10) - by Gibbon


First up tonight, VR-Zone have published a VIA KT600 motherboard roundup. Nine motherboards in total. More information here.

A bit of information over on X-bit labs about the upcoming AMD Athlon 64 FX "San Diego". Thanks Sniper.

Some news from Tekka. The Japanese government has challenged hackers to breach the security protecting a network holding sensitive personal information on Japanese citizens. Bold move. More information here. Some new DVD copying software is causing a bit of a stink, Windows XP SP2 not due till mid-2004, and "Toshiba has launched what it claims is the thinnest, lightest and smallest hard drive-based portable music player yet to grace the market." Looks quite nice. More information here. Hard disk based MP3 players rock ... nothing like carrying a couple of thousand songs around with you! Thanks Tekka.

The dyke is breaking! Greg Dyke that is, Director General of the BBC, and he's breaking open the BBC archives for free download! Imagine all those episodes of "Love Thy Neighbour" waiting patiently to become part of my collection! Thanks Brendan.

Seems Microsoft may be cracking down on third party Messenger clients. "Starting October 15, users of older MSN clients must upgrade or they will be unable to connect to the service, says Microsoft. .... Third-party clients, which Microsoft labels 'unauthorized', will also be adversely affected by the change." Thanks Tenoq.

Are you into heatpipes? Want a fully heatpiped system? Check out these photos of a new Zalman case, using heatpipes for cooling of every component (and in the process turning itself into one big heatsink). Nice.

Looks like the good old ABC will be screening Dr Who again, at 6pm on Monday to Thursday nights, starting September 15. Thanks Shannell!

8BallsHardware have some photos of a watercooled OEM PC from NEC in this forum thread. I wonder what will be the next cool (pun intended) hardcore cooling method now that watercooling has become mainstream? (pun again intended).

Following that theme, it looks like watercooled PCs could become even quieter if technology reported on New Scientist takes off. Silent waterpumps powered by electro-osmosis, with no moving parts. Thanks OzWolfbane.

Finally, a very nice watercooled rig in the PCDB called The_Original_Jobe. Looks like a pretty decent job(e)! Hehe, I need sleep.




Monday Reviews (0 Comments)
 Monday, 25-August-2003  15:46:40 (GMT +10) - by Mred32


Storage:
Vantec EZ-Swap Removable Drive Bay at The Tech Lounge
Seagate Barracuda 7200.7 SATA in RAID at Metku Mods
Lite-On LTR-52x32x52 CD Burner at Techware Labs

Video:
VisionTek's Xtasy 9800 Pro 256MB at The Tech Report
Chaintech GeForce FX 5600 Ultra at OCC
Chaintech Apogee A-FX71 Geforce FX5600 Ultra Ver2 at Monkey Review

Case/Mods:
Enermax 3.5" Bay Fan Controller at Mod Asylum
Vantec Nexus NXP-205 Fan Controller at 8Balls Hardware
Aerocool El Case Badge at AMDmb

Cooling:
Scythe Kamakaze HSF at Bit-Tech
Zalman CNPS7000A-Cu HSF at OCModShop

PSU:
Seasonic Super Tornado 300W PSU at ModSynergy

Misc:
Multi-Purpose Console to VGA Monitor Adaptor at Meet the Geeks
SteelPad 4S Gaming Mousepad at KepTech
Altec Lansing 5100 5.1 Audio Speaker System at Computer Critics
Altec Lansing XA3051 Home Theater Speakers at The Tech Lounge




Compro VideoMate TV Gold Plus (15 Comments)
 Monday, 25-August-2003  02:31:05 (GMT +10) - by Agg


Chainbolt has examined this TV tuner card for us from Compro in Taiwan. This PCI card has some interesting features, including an FM radio tuner and the ability to turn on your PC, record a particular show to disk, then turn it off again.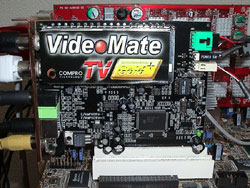 Click for the full review!






Sunday Afternoon (6 Comments)
 Sunday, 24-August-2003  13:27:44 (GMT +10) - by Agg


From Ben: Looks like we're getting new Duron Model 8 Processors - 1400, 1600 and 1800 MHz. AMD released a Tech Doc on August 15 - 25848.PDF shown on their Duron Tech Doc Page - on these processors. This lists the different processors on page 33 - which is Chapter 6. The maximum temp of them is 85C, with a maximum power of 57W. According to TheReg, they'll be_'priced at $32, $39 and $47, respectively' [$US, I presume] and will be codenamed 'Appalbred'. Update: apparently the actual name is 'Applebred' ... less appalling name, and it's aimed at "less wealthy nations" according to TheReg, thanks again Ben.

Apparently the Sobig virus was started via a porn site.

Hmm, might need to get one of these ultimate power supplies for my next PC.

A few people have rebuilt their watercooled machines and are showing them off in our Extreme Cooling forum, check out the threads here, here, here and here.

PCStats have a beginner's guide to firewalls and internet security.

Ohls-Place interviewed someone from ModSynergy.

This University of Kentucky supercomputer is the first to drop below $100 USD per Gigaflop of computing power.. using AthlonXP 2600+ CPUs.

ModTown joined a couple of Maxtor DiamondMax 9 SATA drives into a RAID0 array and ran some benchies on it. We did a similar thing with 2 and 4 WD Raptors recently. For more RAID0 info, see our earlier articles here and here.

ComputerSphere have a guide to spicing up your CD-ROM drive cover.

daDude spotted this feature comparison table between Mac OS X, Win XP Pro and Linux.

Monster-Hardware have a guide to powering LEDs with your motherboard's internal USB connector.

Apparently there are some unauthorised and unsupported versions of Pioneer's DVR-A06 DVD burner being sold in Australia, thanks klif-e. There's some fake Transcend RAM surfacing in India, hopefully won't show up here.

Interesting Forum Threads:
Spammers using RPC exploit in Networking and Internet.
Dumb science rant in Extreme Cooling.
What is your main gaming video card? (poll) in Video Cards.
Project GSXR - wreck to track bike in Motoring.
New batch of 2.8s hit the shore (4GHz) :) in Intel Hardware.
Pixel ICE, SilverProp cyclone Nexus LX and Clearflex reviews in Extreme Cooling.




Sunday Afternoon Reviews (0 Comments)
 Sunday, 24-August-2003  13:07:59 (GMT +10) - by Agg


Motherboards:
Soyo P4I875P Dragon 2 Platinum Edition Canterwood P4 board on TheTechLounge.
Gigabyte GA-7VT600L KT600 socketA board on OCNZ.
Gigabyte GA-7N400 Pro nForce2 Ultra 400 socketA board on SubZeroTech.

Fanbus etc:
Enermax Fan Controller on OCrCafe.
CoolerMaster Musketeer 3-fan controller with meters on ExtremeMHz.
Sunbeam Rheobus on GruntvillE.
PCMods RheoBus v2.5 on VoidedWarranty.

Cooling:
Thermaltake Fan Duct on CyberCPU.
Thermaltake Volcano 11+ CPU cooler on RBMods.
Arctic Silver Ceramique thermal paste on IntelForums.

Audio:
ByteRunner USB SoundCard on ExtensionTech.
A+GPB HSS168 Virtual 3D Headphones on ModSynergy.

Power Supplies:
Seasonic Super Silencer 400W on OCAddiction.
Seasonic Super Versatile 200W on Ohls-Place.
Nexus 300W on Bit-Tech.

Misc:
3Com OfficeConnect Wireless Cable/DLS Gateway on FutureLooks.
Chameleon Springs cable wrapping on Bit-Tech.
ATI TV Wonder VE Remote Control Edition TV card on TweakNews.
Chyang Fun Minicube mini-PC on SpodesAbode.




Saturday Night Reviews (0 Comments)
 Saturday, 23-August-2003  23:59:21 (GMT +10) - by Agg


Video Cards:
Albatron 5600P Turbo GeForceFX on NexusHardware.
Chaintech FX71 5600 Ultra GeForceFX on IPKonfig.
VisionTek Xtasy 9800 Pro Radeon on Bjorn3D.
Abit Siluro FX5900 OTES GeForceFX (video review) on 3DGameMan.

Memory:
GeIL PC4000 Platinum Series DDR on PCStats.
OCZ EL PC3700 dual-channel DDR on ViperLair.
A-Data DDR500 PC4000 on OC-Zone, our review here.
OCZ Gold PC4000 DDR on ViperLair, thanks Daniel.

Storage:
Highpoint RocketHEAD 100 SATA to PATA adapter on ViperLair.
Coolmax Gemini Series CD-510B-U2 3.5"/5.25" USB2 external enclosure on ModSynergy.
External USB2 Portable Storage Kits on OCIA.
Lite-On 52x32x52x CDRW drive on TechWareLabs.

Cooling:
Aerocool Golden Crown CPU cooler on 3DVelocity.
Thermaltake TR2-M4 X Blower Heatsink/Fan on Bjorn3D.
Spire CopperStream P4 Cooler on 3dXtreme.
Xice Watercooling Kit on Nokytech (in French, with pics).
CoolerMaster Aero 7+ CPU Cooler on 3DXtreme.

Cases:
Antec Sonata on FlickerDown, our review here.
CoolerMaster Wave Master on OCAddiction.

Mice and Pads:
IOGEAR Wireless Mouse with Laser Pointer on Ohls-Place.
MouseRug mousepad with tassles on Comp-Shop.
Black Icemat mousepad on Bit-Tech.
FreeFragg Magnum mousepad on FuriousTech.



All content copyright 1999-2003 James Rolfe. All rights reserved. No reproduction allowed without written permission.
Interested in advertising on OCAU? Contact us for info.

179 users browsing.
128 on this page.