[Previous entry: "Pulp Fiction 2"] [Main Index] [Next entry: "A party in your pants!"]
07/16/2003 Entry: "Thinkin' maaachine supacomputers"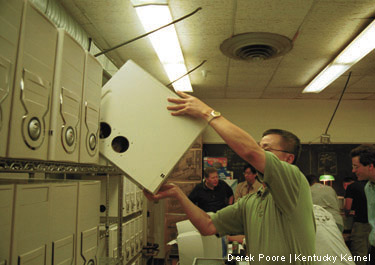 UK's computer science peeps built their latest creation today, the KASY0, Kentucky ASYmmetric Zero. I went over and shot some pics that will run with a later story so I'll do something with them in the mean time.
It's could end up being the cheapest terraflop computer in the world, hoping to achieve 1 trillion floating point operations per second at a cool $39,000.
But the real test will begin when it tries to run Greymatter.
It's predecessor KLAT2, the Kentucky Linux Athlon Testbed, was able to achieve something in the range of 150 GFLOPS or something (I can't remember the exact amount) but irregardless, the new KASY0 can achieve much faster speeds for a cheaper price than KLAT2. I've also seen where someone has done a similar feat with PS2s. However, the FNN (Flat Neighborhood Network) that they used was invented by these guys using a genetic search algorithm. Basically, they used a computer to create their complicated network for them.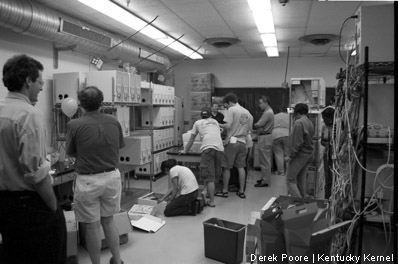 KAYS0 is built using 128 Athlon XP 2600+ cpus. Here's a look at the computer room before all the parts for the new cluster arrived. I don't know why they have a monitor wall, but I want one.
THIS is probably what it looks like at NOTD's internet provider just because we use Greymatter.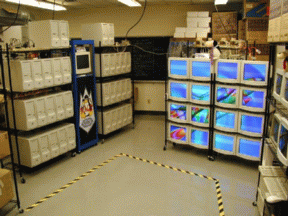 i think scott was facetious in the third post.
Posted by dave @ 07/17/2003 07:24 PM CST
Posted by Derek @ 07/17/2003 05:43 PM CST
OMG OMG OMG why the FUCK would anyone run greymatter on 128 computers? shit. Coranto kicks greymatter's ass anyday!
coranto: http://coranto.gweilo.org
Posted by jason @ 07/17/2003 05:40 PM CST
....and finally, $5 to whomever can decipher when i'm being serious and when i'm being facetious.
Posted by scott @ 07/17/2003 12:28 PM CST
....furthermore, they really should look into getting some of those real cool Alienware cases. I mean, if you're dealing with 5 billion ghz in processing power, you should at LEAST make it look pretty! TSK!
Posted by scott @ 07/17/2003 12:24 PM CST
OMG AMD PROSECSORS!!!! BUT INTEL IS TEH BEST THEY HAVE THE COMMCERCIALS WITH THE ALIENS AND THE BLUE GUYS AND INTEL *TRULY* UNLOCKCS THE PERFORMANCECO F YOUR COMPUTER! THE TV TELLS ME SO. WHAT A BUN CH OF NOOBS LOLOLOLOLOLOL!!!!!!!111ONEONE
Posted by scott @ 07/17/2003 10:48 AM CST
Add A New Comment