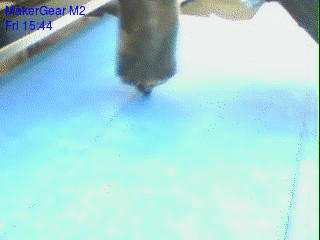 Making Things
Yes, Aggregate.Org has jumped into the world of making things.
Henry George Dietz founded a manufacturing company in 1947... so it isn't surprising that, as a kid, Prof. Henry Gordon (Hank) Dietz, his eldest son, grew-up spending a lot of time learning drafting, machining, tool and die making, injection moulding, and all the other skills associated with manufacturing. In the late 1970s, Hank Dietz learned to program the Bridgeport Series 1 CNC Milling Machine, and ended-up writing various software to ease the process of converting 3D designs into physical things. In fact, Hank Dietz started out as a double major between ME and EE.... So, the technologies for building things have always been of interest....
Why did Aggregate.Org wait until 2013 to get involved in making things? We believe that making things, even at the hobbyist level, has finally become largely a computer engineering problem. We're really good at those....
Introductory Talks
Our Making Equipment
The University of Kentucky has a manufacturing center with extensive facilities. However, our group also has been accumulating hobbyist-level equipment of our own. The key devices right now are:
A Silhouette SD (Graphtec) programmable paper cutter. This sub-$200 device is essentially 2D only, using a small blade to cut thin material ranging from paper to thin plastic sheets. It is certainly not a laser cutter, but it is surprisingly effective on soft-enough materials; the angled edge of the blade only causes significant imprecision on very small cuts involving sharp angles.
A MakerGear M2. This $1800 3D printer purchased in Fall 2012 extrudes 1.75mm-diameter thermoplastic filament into very precisely positioned plastic strands that bond to each other to form a 3D structure. The strands extruded through its 0.35mm nozzle can be any height from about 0.02-0.3mm, with positioning accuracy around 0.01mm. The M2 is remarkably well built, with a welded steel frame, thick waterjet-cut aluminum plates, and steel linear motion rails -- all of which allows it to print as fast as 150-200mm/s while still maintaining good print quality. In Summer 2016, we upgraded our M2 from its original 12V system to 24V and switched to an E3D (V6) head and Azteeg X5 mini 32BIT Controller V3 with display. In addition to the lab M2, Professor Dietz also owns one personally, which is an early 2014 24V version now stand-alone thanks to a Raspberry Pi running OctoPrint. We didn't expect the M2 to still be the top-quality printer in its class years after purchase, but in 2016 it still is.
A Wanhao I3. This $400 3D printer purchased in Fall 2015 extrudes 1.75mm-diameter thermoplastic filament very much like our M2 does. Wanhao has taken a pretty basic I3 design and tweaked it for volume manufacture with a sheet metal frame; it's nowhere near as rigid as our M2, but it's actually capable of making good prints as fast as 40-60mm/s, which is faster than most printers. After printing with stainless steel PLA that eroded the original nozzle, we made a little upgrade, but that's all we've done to it. This is our "sacrificial" printer; we use it when we don't want to risk the M2.
A 3040T CNC mill/engraver. This is personal equipment of Professor Dietz, but is still a resource for our group. Our lab in Marksbury isn't really a suitable place for a CNC, otherwise we'd have one of these $700 machines there too. It is nowhere near as convenient nor flexible a tool as the 3D printers, but it can machine to tighter accuracies than we can print, and can handle a wide range of materials.
An HTPOW mini laser engraver. This is a very small unit, with lots of limitations, but it is a 1000mW @ 405nm laser capable of engraving wood, cutting PLA, etc. We've made a variety of modifications, outlined in our Instructable, Making Your Mini Laser Engraver Safer And Better, which includes some 3D printed parts posted as Thing 1859303.
Paul Eberhart (who is not just a grad student in our group, but also a long-time maker) has been posting photos of our experiences with the MakerGear M2, etc., at this Google+ page. That can give you a more raw look at what we've been doing....
It's also useful to have some idea of 3D printing cost. Electrical power use is minimal, and so is "wear and tear" on the printer, so cost is mostly in the filament. Both PLA and ABS filament are generally sold in 1Kg spools with a typical delivered price of around $45 each... but how much filament is that really? Well, this site lists density of PLA as 1.25 g/cm3 and ABS as 1.01 g/cm3. That means you get about 800 cm3 of PLA or 990 cm3 of ABS in a spool, for a cost of $0.056/cm3 for PLA and $0.045/cm3 for ABS (just to put this in perspective, Ponoko charges at least $0.86/cm3, so using your own printer is about 15X cheaper). If you're extruding a 0.3mm layer of PLA, that comes out to over 2m of extruded material per penny, or about 4 cents/minute at our M2's (relatively fast) maximum 150mm/s extrusion speed. Of course, per meter cost is nearly an order of magnitude lower using 0.1mm extrusion.
Some Of Our "Things"
We've designed and built a lot of things. Here are some of them grouped by catagory....
Puzzles & Fun Stuff
Tools & Parts
Camera Stuff
Other Stuff
Our New Making Technologies
General References
Note that being listed as a reference here does not imply an endorsement by the University of Kentucky... but our group has found the following sites to be useful.
---

The only thing set in stone is our name.