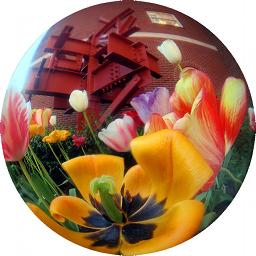 Digital Imaging Technologies
Yes, Aggregate.Org does digital imaging! In fact, we're deeply involved in the University of Kentucky's Center for Visualization and Virtual Environments. For example, the image above was captured using a peephole as a fisheye lens for a digital camera.
How we got into digital imaging is a long story, but it started with a need to create high-resolution images for our cluster supercomputer video walls... digital cameras and sufficient compute power now are so widely available that some of our once exotic technologies have become of more general interest.
General References
a brief overview originally prepared for a free short course offered during Engineer's Day open house at the University of Kentucky's Department of Electrical & Computer Engineering; latest update is 20210517
not a very active group of late...
Research Products & Spin-Offs
photos and overview of the FourSee multi-camera, which is capable of capturing high-framerate, high-dynamic-range, video synthesized from coordinated captures using four PowerShot N
Slides explaining ISO-less phenomena and how to use them to improve exposure
a white paper explaining why large format digital sensors make sense
an instructable about making lensboards for 4x5 and other large-format cameras
an instructable about using your finger to nudge a pop-up flash toward the ceiling... which works very nicely with the Sony NEX-7
an instructable about using your mirrorless camera as a digital back for a large-format film camera
The Fujifilm X10 has become infamous for the "white orbs" it sometimes produces; this tool replaces the blobs with more natural-looking synthesized structures
an instructable about the use of Kiev 10/15 lenses on modern digital cameras
Presented January 26, 2012 by Prof. Dietz at the IS&T/SPIE Electronic Imaging conference; paper to appear in the proceedings
An annotated listing of (most) lenses I'm working with in my research; there are over 100, mostly old lenses purchased via eBay
slides for two lectures Prof. Dietz gave in CS585 Computational Photography at the University of Kentucky, Sept. 28 and Sept 30, 2011
an instructable about the use of C-mount lenses on cameras with sufficiently short flange distances, but larger sensors than the lenses were designed to cover... mostly reporting a negative result
an instructable about customizing/repairing the non-optical parts of old lenses
an instructable about direct capture of anaglyphs using a reversible sub-$1 mod to a camera; although it does not require any special processing of the images, this is a spin-off of our computational photography work involving analysis and processing of out-of-focus image content
a short overview of Dietz's take on cleaning cameras and lenses
an instructable about equipment lenses with f/numbers well below 2.0, e.g., Kowa 1:1 55mm
a little instructable about M42 preset, auto/man, and auto apertures
a dpreview challenge series attempting to encourage use of new digital imaging technologies
discusses use of old film SLR lenses on new DSLRs
discusses use of an old 4x5 sheet film camera as a webcam
a "work in progress" overview/survey of tethered image capture issues and techniques
using a cheap digital camera with a door viewer peephole
a very simple linear technique using unmodified digital cameras
a really cool thing you can do with your lenscap to capture colors more accurately; this concept also is described in an instructable: Improve Color Accuracy In Your Photos
about use of subpixel techniques for general image rendering, as implemented in VWLib; this page was last modified December 15, 1998
a virtual frame buffer for cluster supercomputers and various tools using it; our group built the world's first Linux PC cluster video wall back in 1994, and VWLib was the portable library we later released for others to use
External Links (not ours)
This is "a learning community for photographers" with some excellent tutorials including a variety of interactive displays and calculators
CIPA Guidelines standardize how camera specifications are listed, etc.
A fairly technical site discussing digital photography equipment
A fairly technical site discussing digital photography equipment
A fairly technical Pentax-oriented site
A fairly technical Konica/Minolta/Sony-oriented site
A site dedicated to manual focus lens sample images, data, and reviews
A free-content encyclopedia of camera info; for example, here is the longest list of M42 lenses I've seen thus far
---

The only thing set in stone is our name.